Logan

Echelard CAPTURED Bozeman Fugitive
CAPTURED: LOGAN ECHELARD
Logan Echelard wanted in Bozeman, Montana for traffic offenses including, Habitual Traffic Offender, Driving on Suspended license and No Insurance. A charge listed on Gallatin County Sheriff website now includes Possession with Intent to Sell. Logan Echelard wanted for also failing to report to his court appearances and is now considered an active fugitive from justice and wanted by Central Montana Bail Bonds Bozeman bail office, Bozeman Police Department, Gallatin County Sheriff and possibly other authorities. Logan Echelard wanted and may be in hiding at certain locations in Bozeman or Belgrade. Echelard may also be wanted for additional warrants in other jurisdictions other than in Bozeman County, Montana.

Last known whereabouts of the fugitive, Logan Echelard, was at his home in Bozeman, Montana. We have been informed that he may be in hiding at a friends home in Belgrade, MT.
These are simple traffic violations that have compounded into an additional charge of Contempt of Court for failure to appear. We have also been informed that Logan Echelard was arrested for allegedly driving without a license, no financial responsibility and another charge of Possession with Intent to Sell. Please keep in mind that this information is being redistributed and protected by constitutional publishing rights. This record was reported on or about October 6th, 2017. The related citation numbers are 012H000967 & 012H000968 & 012H000969. More information is included on the Wanted Facebook Post
You are a wanted person Logan Echelard; and if you are reading this important wanted message right now, we need you to contact Central Montana Bail Bonds Bozeman; Gallatin County Bail Bonds Division immediately about your misdemeanor warrants and to clear your bail bond at 406.350.2245.
If you do not contact our Gallatin County bail bonds office about your bail immediately, we will begin legal proceedings against you and your cosignor to recover any and all fees about your bail forfeiture.
Mr. Echelard, please take notice that CMBBI of Bozeman Montana will relentlessly pursue you until you are returned to custody and the obligations of your bail bonds contract have been fulfilled. You must contact our office right now at (406) 350-2245 to turn yourself in.
Or, if you know the whereabouts of Logan Marcus Echelard and want to claim a substantial REWARD for information leading to his capture; please click the button below to send CMBB bondsmen Bozeman bail bond agents will contact you immediately. Reward will be issued upon his capture and naturally, your information will be kept completely confidential.
---
Logan Marcus Echelard Wanted Fugitive Information:
Full Name: Logan Marcus Echelard
Date of Birth: May 25th, 1994 | 05/25/1994
Height: 6′ 4″
Weight: 200 pounds
Hair Color: Brown
Eye Color: Green
Employer at Time of Bond: Josh Jones Construction
Occupation at Time of Bond: Construction Worker
Tattoos or Scars: NA
CAUSE: DRIVING WHILE SUSPENDED & NO PROOF OF INSURANCE & HABITUAL OFFENDER
FACEBOOK PAGE: https://www.facebook.com/logan.echelard
Additional Information: Logan M. Echelard is on the run for multiple traffic violations of Driving a Motor Vehicle While Privilege to Do So is Suspended or Revoked 61-5-212(1)(i) and Operating Without Liability Insurance 61-6-302(3rd+) and Habitual Offender Operating Motor Vehicle 61-11-213 and has skipped bond. He is considered potentially dangerous and may be armed. Please do not approach or attempt to stop this wanted fugitive! Immediately contact Central Montana Bail Bonds, Gallatin County Sheriff or your local police department if spotted. PLEASE DO NOT APPROACH.
Prior Arrest News: Logan Echelard charged with dealing drugs
Gallatin County Warrants List: Logan Echelard Warrants | GALLATIN COUNTY WARRANT IMAGE LINK
Case Number: TK-115-2017-00835 BENCH WARRANT OF ARREST
Last Known Whereabouts of Logan Echelard Wanted Fugitive:
972 Nth River Rock, Belgrade MT 59714

Logan Echelard Wanted Fugitive Notice
ATTENTION: Logan Echelard is a wanted fugitive for multiple traffic violations. Please DO NOT attempt to apprehend. Please call Central Montana Bail Bonds at (406) 350-2245 or your local law enforcement agency.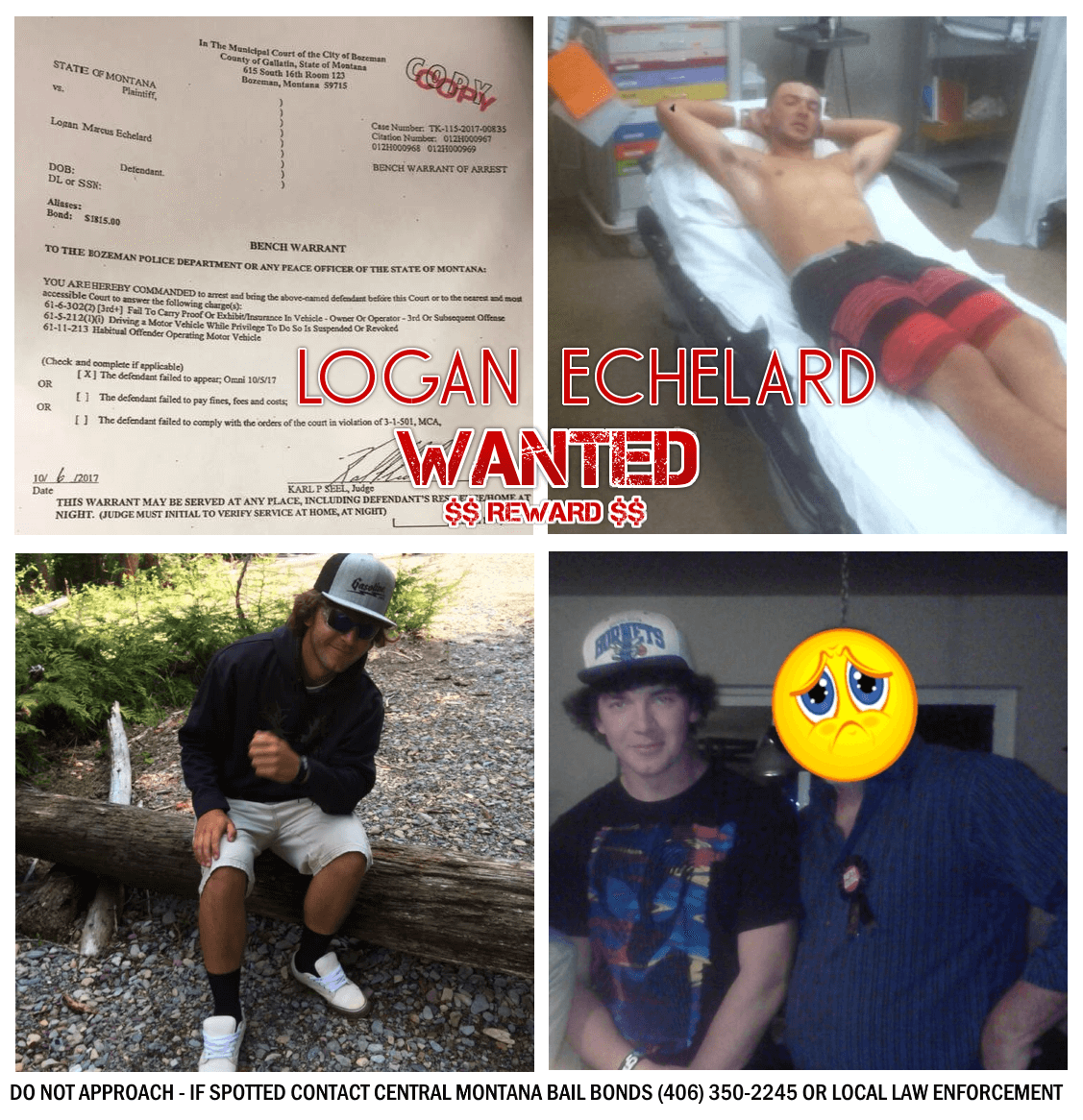 Write

a Comment
Fields with * are required