Billings Bail Bonds Information: What You Must Know!
Your Billings bail bonds company is Central Montana Bail Bonds. We provide affordable Billings bail coupled with the fastest release from the Yellowstone County Detention Center. Our bondsmen have put together information to help you maneuver your way through the Yellowstone County courts and inmate detention facility. We hope the information helps you make the best choice for bail, Central Montana Bail Bonds of Billings.
Arrested in Billings Montana? The first thing to happen other than booking is going to be the transport to the Yellowstone County Detention facility. It's here where your bond is posted to help effect your release. Our bondsmen are only minutes away and can write any bond, in any amount needed – just call to let them know your amount.
How Much is Your Bail Going to Cost?
Enter in the total bail amount needed to determine your approximate Billings jail bail costs:
We hope you find this information worthwhile and if there are any changes or items you wish to see added to the Billings bail bonds page, please send a message below using the contact form provided.
---
YOUR BILLINGS BAIL BONDSMAN:
Brian Hamilton
(406) 860-BOND
Title:
Billings Bail Bonds Agent
Email:
brian @ centralmontanabailbonds.com
YELLOWSTONECOUNTYBAILREQUEST
"*" indicates required fields
---
Yellowstone County Jail (Detention Center)
3165 King Ave East
Billings, MT 59101
MAP
Arrested in Yellowstone County (Billings) and need to find an inmate? Click here for the Yellowstone Detention Center jail roster:
---
Yellowstone County Sheriffs Office
2550 3rd Ave N
Billings, MT 59101
MAP
---
Yellowstone County Justice Court
The Yellowstone County Justice Court criminal division handles traffic, fish and game violations, misdemeanor offenses, alcohol involving juveniles, and preliminary hearings. The Justice Court is located in the Yellowstone County courthouse at the following address:
217 N 27th St
Billings, MT 59101
Tel (406) 256-2895
MAP
---
Billings Airport Police
1901 Terminal Circle
Billings, MT 59105
Tel: (406) 657-8498
Billings Logan International Airport Police
MAP
---
Billings Bail Bonds from CMBBI on Vimeo.
More information about Billings bail bonds and the Yellowstone County Courts system can be found on this wiki: Yellowstone County Montana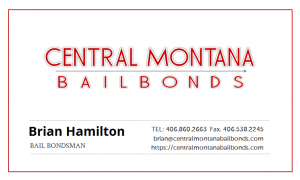 Billings Bail Bonds Brian Hamilton