NO LONGER WANTED: ROBERT ANDRADE
Robert Andrade wanted in Thompson Falls, Montana of Failure to Appear in Sanders County Justice Court and is now considered an active fugitive from justice. Charges include DUI and drug possession. Central Montana Bail Bonds Thompson Falls bail office, Thompson Falls Police Department, Sanders County Sheriff and possibly other authorities. Robert Andrade wanted and may be in hiding at a certain location in Enumclaw, Washington. Andrade may also be wanted for additional warrants in other jurisdictions, unknown at this time.

All information listed in this wanted post was retrieved using search of public information. Public info includes details the fugitive, friends and family have posted on social media sites (andrade facebook page); as well details listed on multiple county and government webpages. We have been informed by friends and family of his whereabouts and his unwillingness to face his legal obligations. We hope that this notice will give him the motivation to do the right thing. Robert's warrant, publicly listed information and legal charges are listed below.

Last known whereabouts of the fugitive, Robert Andrade, was at his home in Enumclaw, WA. Public tax records show an address listed in his name, and is listed below. We ask any family or friend reading this that it's time to do the right thing and persuade him to contact Central Montana Bail Bonds, (406) 350-2663 about his bond.
You are a wanted person Robert Andrade; and if you are reading this important wanted message right now, we need you to contact Central Montana Bail Bonds Thompson Falls; Sanders County Bail Bonds Division immediately to clear your bail bond at 406.350.2245. You must also contact the Sanders County Justice Court about your warrant. The courts provided leniency during a family emergency in January 2018 and it appears, he took advantage of the situation by absconding and running to Enumclaw, WA.
Mr. Andrade, if you do not contact our Thompson Falls bail bonds office about your bail immediately, we will begin legal proceedings against you to recover any and all fees about your bond forfeiture.
Mr. Andrade, please take notice that CMBBI of Thompson Falls, Montana has, and will, relentlessly pursue you until you are returned to custody and the legal obligations of your bail bonds contract have been fulfilled. You must contact our office right now at (406) 350-2245 to facilitate turning yourself in.
Or, if you know the whereabouts of Robert John Andrade and want to claim a substantial REWARD for information leading to his capture; please click the button below, or complete the form posted at the bottom of this page. A CMBBI bail bond agent will contact you immediately. Reward will be issued upon his capture and naturally, your information will be kept completely confidential.
---
Robert Andrade Wanted Fugitive Information:
Full Name: Robert John Andrade
AKA: Robert, Robert John, RJ, Paul
Date of Birth: May 20, 1993 | 05/20/1993
Height: Unknown
Weight: Unknown
Hair Color: Brown
Eye Color: Brown
Present Employer: Amazon Fulfillment Center BFI4 (Kent, WA 98032)
Employer at Time of Bond: Unknown
Occupation at Time of Bond: Unknown
Tattoos or Scars: Unknown
BENCH WARRANT: Issued by Sanders County, MT TK-790-2016-0000347 WARRANT LINK
CITATIONS:

510 A598786 E
510 A598787 E
510 A598788 E
510 A598789 E
510 A598790 E
510 A598791 E

CAUSE: FAILURE TO APPEAR | CHARGES:

Driving Under the Influence of Alcohol and Drugs – 1st Offense | 61-8-401(1)(d)[1st]
Criminal Possession of Dangerous Drugs – Marijuana (60 Grams or Less) – 1st Offense | 45-9-102(2) [1st]
Criminal Possession of Dangerous Drugs – Marijuana (60 Grams or Less) – 1st Offense | 45-9-102(2) [1st] 2nd Charge
Operating Without Liability Insurance in Effect – 1st Offense (61-6-301(4) [1st]
Unlawful Possession of Open Alcoholic Beverage Container in Motor Vehicle on Highway | 61-8-460
Careless Driving | 61-8-302(1) [1]

FACEBOOK PAGES:
Additional Information: Robert Andrade is on the run for charges of Failure to Appear, driving under the influence of alcohol or drugs, possession of marijuana (2 charges), fail to provide insurance, careless driving, open container and has skipped bond. Please DO NOT APPROACH or attempt to stop this WANTED FUGITIVE! Immediately contact Central Montana Bail Bonds, Sanders County Sheriff, Thompson Falls Police Department or your local police department if spotted. PLEASE DO NOT APPROACH.
BENCH WARRANT: This warrant is public information (we have chosen to block Robert's SSN): Robert Andrade Warrant
Robert Andrade Wanted Fugitive Notice
[button type="danger"]ATTENTION: Robert Andrade is a wanted fugitive for a Failure to Appear. Please DO NOT attempt to apprehend. Please call Central Montana Bail Bonds at (406) 350-2245 or your local law enforcement agency.[/button]
LAST KNOWN WHEREABOUTS OF ROBERT JOHN ANDRADE
King County Public Tax Records show that he co-owns the property at 21311 412th Place, Enumclaw, WA 98022 (MAP). The tax records are being sent to another family member's address. We will not list that person's address here, but it is in the public record in the link below.
https://blue.kingcounty.com/Assessor/eRealProperty/Dashboard.aspx?ParcelNbr=9326100110
Parcel Number: 932610-0110
Name: ANDRADE XXXXXXXXX and ROBERT (960897)
Tax Account #: 932610011003
Site Address: 21311 SE 412TH PL, ENUMCLAW, WA 98022
Legal: WESTWOOD VILLAGE WRAY ADD #2 LESS C AND M RTS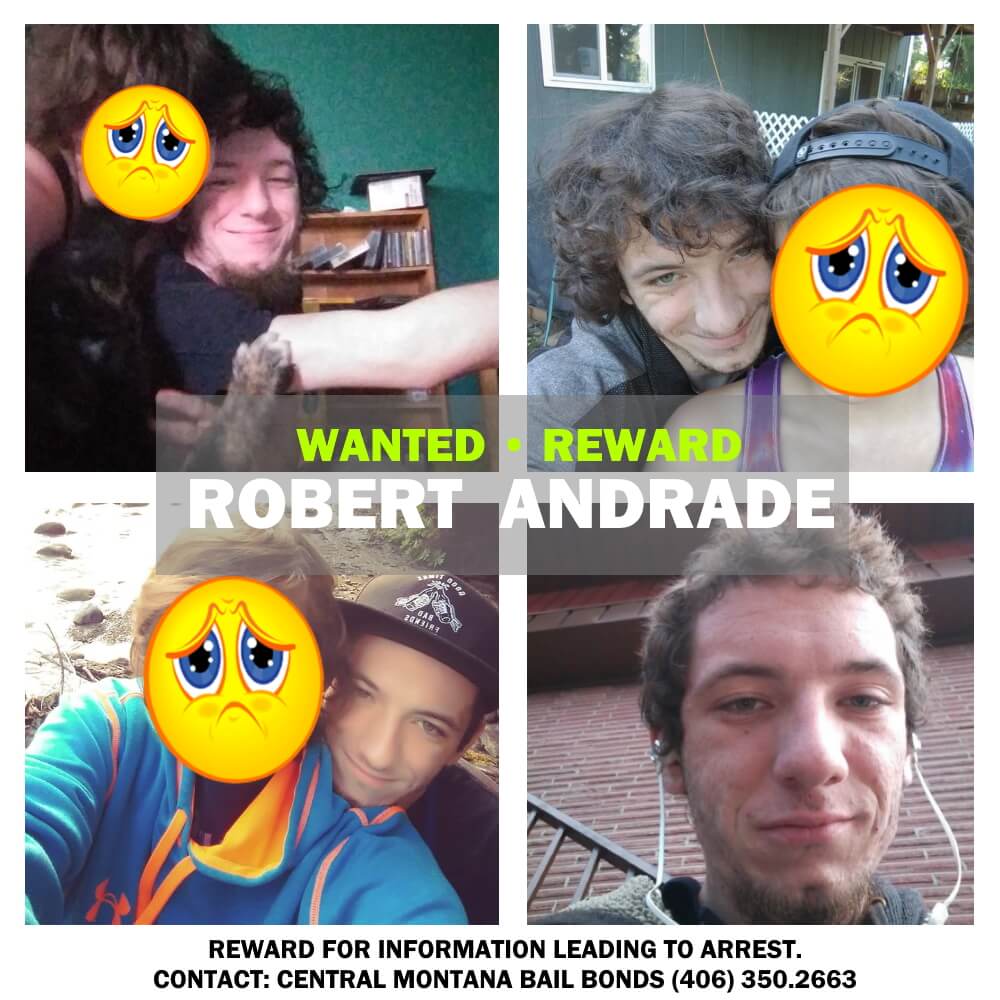 ---