UPDATE 6/12/2017 : CAPTURED MICHAEL ANTHONY ANDERSON
Michael Anderson wanted in Kalispell Montana for Misdemeannor Theft and Felony Bail Jumping in Flathead County, Montana. Mike Anderson wanted and is now considered a fugitive from justice and wanted by Central Montana Bail Bonds Kalispell bail office, Kalispell Police Department, Flathead County Sheriff and possibly other authorities. Michael Anderson wanted may be in hiding at certain locations in Kalispell. Anderson may also be wanted for additional warrants in other jurisdictions other than in Flathead County, Montana. There is a reward for information leading to capture.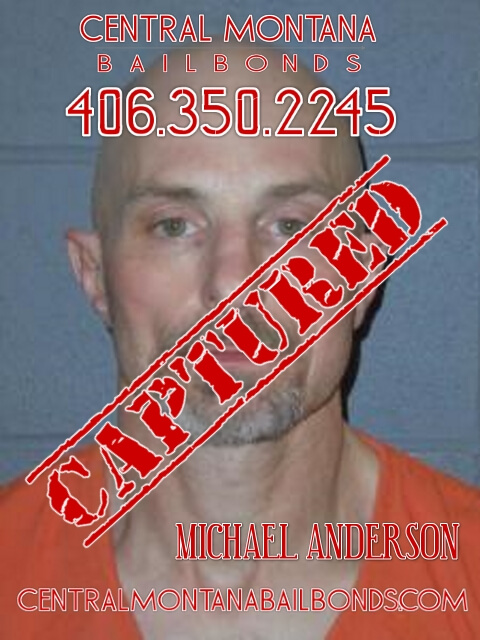 Last known whereabouts of the fugitive, Michael Anderson, was in Kalispell Montana. We have been informed that he may be in hiding at his boyfriends home in Kalispell. We have also discovered that he has a lengthy criminal record. At the time of his arrest in Flathead County, Michael had stated that he was unemployed and was on disability.
We've been informed that Mike Anderson, a wanted fugitive, is staying with his boyfriend, Jeff (unknown last name), and may be temporarily staying at his girlfriend's mothers' mobile home in Ridgewood Terrace Mobile Home Park. We also understand that she may be aware of his warrant and wanted status in Montana. CMBBI has been informed of the address he is staying at and will be forwarding this information to the county attorney and local law enforcement.
Michael A. Anderson Vehicle Spotted
We have been informed that Michael A. Anderson is driving a black, Ford Explorer SUV and may be in hiding with his friend Jeff. Jeff, if you're reading this, you are knowingly aiding and abetting a fugitive. More information is included on the Michael Anderson Wanted Facebook Post: To be listed momentarily.
Mike Anthony Anderson: YOU ARE WANTED IN FLATHEAD COUNTY!
You are wanted Michael Anderson; and if you are reading this important wanted message right now, we need you to contact Central Montana Bail Bonds Kalispell; Flathead County Bail Bonds Division immediately about your misdemeanor warrants and to clear your bail bond at 406.350.2245.
If you do not contact our Flathead County bail bonds office about your bail immediately, we will begin legal proceedings against you and your cosignor to recover any and all fees about your bail forfeiture.
JD Anderson, please take notice that CMBBI of Kalispell Montana will relentlessly pursue you until you are returned to custody and the obligations of your bail bonds contract have been fulfilled. You must contact our office right now at (406) 350-2245 to turn yourself in.
Or, if you know the whereabouts of Michael Anthony Anderson and want to claim a substantial REWARD for information leading to his capture; please click the button below to send CMBB bondsmen Kalispell bail bond agents will contact you immediately. Reward will be issued upon his capture and naturally, your information will be kept completely confidential.
[button link="mailto:wanted@centralmontanabailbondscom?Subject=Michael%20Anderson%20Wanted%20Info" type="danger"]REWARD[/button]
---
Michael Anderson Wanted Fugitive Information:
Full Name: Michael Anthony Anderson
AKA: Michael Anthony Anderson Sr, Mike Anderson, Anderson Michael, Mike Anthony, Jon Anderson, Michael Anderson Jr. (he may also be using his son's name and identifying information)
Date of Birth: November 12, 1965 | 11/12/1965
Height: 5′ 8″
Weight: 155 pounds
Hair Color: BALD, (brown)
Eye Color: Brown
Employer at Time of Bond: Unemployed
Occupation at Time of Bond: Disabled
Tattoos or Scars: Unknown
Mike A. Anderson FLATHEAD COUNTY WARRANT link
CAUSE: THEFT, bail jumping
Additional Information: Michael A. Anderson is on the run for misdemeanor theft and felony bail jumping. He is considered potentially dangerous and based on his prior arrests in Montana and Washington state he may be armed. Please do not approach or attempt to stop this wanted fugitive! Immediately contact Central Montana Bail Bonds Kalispell, Flathead County Sheriff or your local police department if spotted. PLEASE DO NOT APPROACH.
Last Known Whereabouts of Michael Anderson Wanted Fugitive:
We have word that Anderson is presently residing in Kalispell, and frequently visits the mobile home of his girlfriend Stacy Black at: 144 Ridgewood, Kalispell, MT 59001: Subdivision: Ridgewood Terrace Mobile Park
Michael Anderson Wanted Fugitive Notice
[button type="danger"]ATTENTION: Michael Anderson is a wanted fugitive for misdemeanor theft and felony bail jumping. Please DO NOT attempt to apprehend or subdue. Please call Central Montana Bail Bonds at (406) 350-2245 or your local law enforcement agency.[/button]
---